Geography IS NOT my forte. Never was, never will be.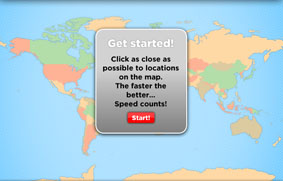 This one
holds quite a cringe-potential for geographically challenged people like I am.
Scored a meagre
337,448
(travel-IQ: 108 - talk about average)
Everything beyond 90° of eastern longitude is basically terra incognita to me. As if I derived my knowledge from
Herodot
alone. I blame my field of study for my blatant eurocentrism.
p.s.: How fitting that the
Sistine Chapel
was the nearest I came to pinpoint a location exacty (19 km!).
p.p.s.: I tried again and didn't even make it through level 7 which made me realize that 337,448 wasn't such a terrbile score after all - obviously resulting from A LOT of lucky guesses.
p.p.p.s.: Then I forced Lukas in front of my computer and he got 363,002 in his first and 432,714 in his second attempt. bastard. Noteworthy that his closest calls were Kingston/Jamaica (56km) and Ocho Rios/Jamaica (38km). Suspicious.
tanja jenni - 16. Jan, 14:26
misc